Events for DV Farm, Inc.
Upcoming Schedule
The events for DV Farm, Inc., unless otherwise noted, are for the current year.
Please check back regularly in case we have events for DV Farm, Inc. "pop-up" at the last minute.
OH NO!!
There Are No Current Events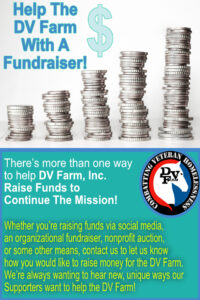 Help The DV Farm!
Sometimes we are unaware of groups, organizations, and individuals holding fundraising events for DV Farm, Inc. and many are not sure how to go about doing so and for that, you simply have to contact us.
We cannot promise that we (the DV Farm Staff) will be able to attend any or all of the fundraising events (especially if they are out-of-state) but we will try our best. Also, please note, that we do not promote fundraising events held by others unless we have a signed contractual agreement to cover all individuals involved.